Photographs from the Rio Grande del Norte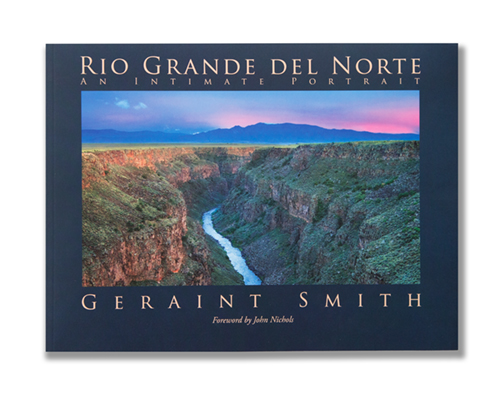 $35 - Order Yours
(no extra charge for signature)
160 pages of full color images from the Rio Grande del Norte region of northern New Mexico and southern Colorado.
Published by Dog Soldier Press and printed in Canada with a foreword by Taos author John Nichols.
To order your copy of Rio Grande del Norte: An Intimate Portrait,
please visit any of the outstanding stores around New Mexico
or you may also order by calling: 
505-501-4880 or 575-779-2912 to use your credit card.
Checks are also welcome at:
Geraint Smith Photography
PO Box 1357
Taos, NM
87571
Be sure to include NM tax (7.3125%) and shipping ($6.95 book rate or $14.95 Priority Mail)
Shops around New Mexico carrying my book
Taos
Brodsky Books
Taos Visitor Center
Harwood Museum Gift Shop
Op Cit Books
Taos Mountain Outfitters
The Taos Art Museum at Fechin House
Mabel Dodge Luhan House Gift Shop
Millicent Rogers Museum Gift Shop
Wired Cafe
Arroyo Seco
Jack Leustig Imaging
Questa
Rio Grande del Norte Visitor Center
Santa Fe
Garcia Street Books
Collected Works Bookstore
Public Lands Visitor Center
Albuquerque
Bookworks
Page 1 books
Treasure House Books
Guerrilla Graphix
From the foreword by Taos Author John Nichols:
In this collection of images, Geraint Smith has given us a view of the Rio Grande del Norte area that is sublime.
The view can be subdued and delicately poetic … or truly sensational.
Quotes from the book:
The natural beauty of the rivers that flow through spectacular landscapes, inhabited by an abundance of wildlife, is perhaps the common denominator that continues to inspire people who live here as well as those visiting for the first time.

Over time things change; often unnoticed are things that remain the same.

Transformation happens quickly on the Mesa and compels a close look.

Old corrals scattered across the plateau are dilapidated memorials to the large sheep herds that once grazed the Mesa's grasslands.

To see all or any of these magnificent creatures, the  intimate details of nature, and the vast landscapes and canyons we share, I encourage you to venture into The Rio Grande del Norte with reverence and wonder. The adventure just might change your life.