Geraint Smith Photography, Taos, New Mexico
Photo Tour/Workshops, Fine Art Prints, Photo of the Day Archive,
with images from the American Southwest and beyond, stock images and commissions
Coming up in September and October!
If you are fortunate to be in Taos on the weekend of September 23-25, 2022, please visit the Stables Gallery, where I'll be showcasing my photography with a group of other artists. The show will consist primarily, of new black and white images, with some of my iconic images alongside.
The Stables Gallery is located at: 133 Paseo del Pueblo Norte Taos, NM 87571
On October 7-31, 2022, I will have a solo exhibition of my Sculpture and Photography, all new work, at the Bareiss Gallery here in Taos.
Here's the advertisement for my October exhibition and the details.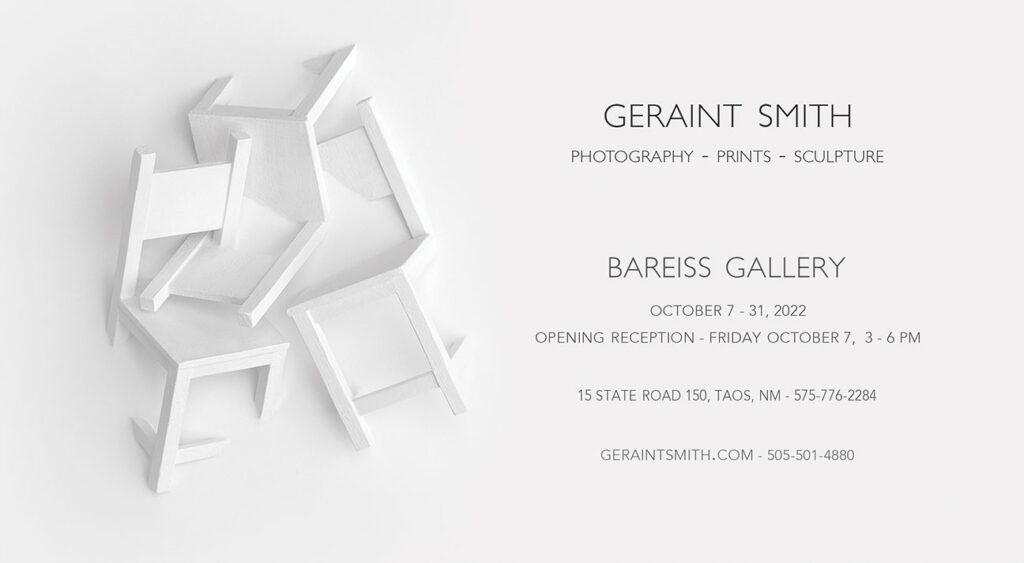 Photography Tours, and Workshops With Geraint Smith
in northern New Mexico and southern Colorado
Year-round, personal one on one photography tour/workshops
Geraint Smith Photography offers year-round, photo tour/workshops in a variety of locations to improve your photography skills with one on one personalized guidance. All of our photo tour/workshops are designed for photographers of all levels interested in improving their skills. If you're looking for a hands-on guided experience to improve your photography or want to visit locations to enhance your photography portfolio, join me on a private photo tour/workshop into the valleys, canyons and mountain villages or under the night skies of northern New Mexico and southern Colorado.
The summer solstice came and went. Where did the time go? The massive cumulus clouds are bringing monsoons, welcomed with open arms in New Mexico. They will also add a lot of drama to landscape image-making.
I'm booking dates from now through the rest of the year and beyond. I look forward to introducing you to some of my favorite locations in this area.
Collections of Fine Art, exhibition quality, signed, prints using archival papers and inks. Stock Images and Commissions and one to five day photo tour/workshops, located in the beautiful high desert town of Taos and, New Mexico.
Explore the places that have been the inspiration for my photography for over 35 years. Join me on a photo tour/workshop or multi-day tour/workshop in the unique landscape of northern New Mexico and southern Colorado. Experience the places, architecture and culture of this enchanting and mystical corner of the world.
Over the years I have donated many images to non profits and charities here in New Mexico and around the world. If you are a non profit, a charity, or an individual with a cause and you would like me to consider supporting with a donation of images to augment your work, please email me or call 505-501-4880. Thank you for visiting.
"The old people came literally to love the soil and they sat or reclined on the ground with a feeling of being close to a mothering power. It was good for the skin to touch the earth and the old people liked to remove their moccasins and walk with bare feet on the sacred earth. Their tipis were built upon the earth and their altars were made of earth. The birds that flew into the air came to rest upon the earth and it was the final abiding place of all things that lived and grew. The soil was soothing, strengthening, cleansing and healing."
Luther Standing Bear, Oglala Lakota