Silence has an eloquence surpassing that of speech; creating a space in which the heart's thoughts can resound and deeply-felt emotion can echo with a voice profound in another's heart that listens in the silence.
–Howard Owen Smith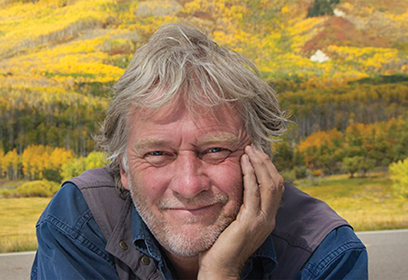 I began life in Stanleytown in the Rhondda Valley, a coal mining community in South Wales. I attended Stanleytown School, my mom raised four children and my dad worked at the mine in the valley below.
Some of my earliest memories include going up the hill to school, down the hill and over a bridge through the colliery to the shops across the valley. Every couple of weeks my family and I walked to the local cinema to watch western films with endless skies and expansive locations. Looking back today, I can't help thinking I unconsciously knew I would eventually live in the wide open spaces of the American Southwest.
One of my earliest memories of photography dates back to when I was three years old. My dad began letting me carry the family Kodak Brownie Camera and occasionally even allowed me to take a picture.
In 1966, my family moved to Yorkshire, England – more coal mines, steel mills and soot! Despite the blight of industry, we were surrounded by some of the most beautiful and idyllic countryside in Britain. My teen years are mostly a blur now, but I did develop a love for photography when I bought my first movie camera.
In 1978, at the age of 22, I moved to Los Angeles where I began to study cinematography and film. I soon discovered that I preferred 'still' photography and chose to make it my medium of expression. During the ensuing ten years, I made many trips back to England and Europe, but decided to remain permanently in the United States and embarked on a career as a freelance photographer working for the City of Pasadena, Caltech, the Los Angeles Philharmonic and the Pasadena Symphony Orchestra.
While living in Los Angeles, I made several trips to Taos, New Mexico, visiting old friends and making new ones. When, in 1988 I decided to create a more serene living environment, Taos was the obvious choice. I hitched up my wagon, headed east and settled in the southwest, a place where the sky and horizon met below my feet and the stars formed a canopy so that the earth I slept on seemed like a cradle. I used to define my reality and my world by my experiences, and in that way limited the immense possibilities I have since learned are available to me. Over the years I have tried to place it all in perspective to better understand my sphere of reality. What I discovered living in the Southwest with its wide open spaces is just how much room there is in me to remember and rediscover the peace at the center of my soul. I have learned that the beauty all around me is a mirror of the vast beauty inside me … much of which is still waiting to be explored.
These days I offer personalized photo tour/workshops in the Land of Light. Join me in exploring locations that have been the inspiration for many photographers and artists over the years. Take in the enchanting landscapes of northern New Mexico and southern Colorado and experience the places, architecture and culture of this mystical corner of the world. Please visit my website www.geraintsmith.com for more information.
Geraint Smith
Taos, New Mexico
Over the years I have donated many images to non profits and charities here in New Mexico and around the world. If you a are a non profit, a charity, or an individual with a cause you would like me to consider supporting, with a donation of images to augment your work, please email me or call 505-501-4880. Thank you for visiting.
Clients
AAA New Mexico Journeys Magazine
AAA Westways
Village of Angel Fire
J. D. Challenger Gallery
Santa Fe Circle Magazine
Ski Country Magazine
Mabel Dodge Luhan Historic House
Millicent Rogers Museum
Destination Taos
Medmark/Vista Taos
Alan Powell Design
O, The Oprah Magazine
The Orvis Company
New Mexico State University
Aviation Courseware Development
Health Security for New Mexicans Campaign
ForbesLife Mountain Time
Griffin & Associates
Forbes
Wadle Galleries
The Washington Post
KCET Magazine
Desert Blends
Dog Soldier Press
Woman's World Magazine
Taos Ski Valley Chamber of Commerce
Synergy MLC
High Country Real Estate Services
Sunset Magazine
Vista West Mesa Airlines
Northern New Mexico Visitors Guide
Northern Arizona Visitors Guides
Pasadena Chamber of Commerce Business Directory and Visitor Guides
For A Change (London, England)
Taos Vacation Guide
Taos Guide
Town of Taos
Taos Convention/Visitors Department
Coldwell Banker Sutton Trujillo Group Inc.
Sutton Construction
Crossroads Realty & Management, Inc.
Ojo Caliente
Webb Design, Inc.
Smithsonian American Art Museum
El Valle de Los Ranchos Water and Sanitation District
Southwest Style: A Home-Lovers Guide to Architecture and Design
Pasadena Crown of the Valley: An Illustrated History
One Day USA: A Self-Portrait of America's City
Santa Fean Magazine
New Mexico Magazine
Santa Fe Circle Magazine
Ski Country Magazine
High Country Magazine
Angel Fire Visitors Guides
Sangre de Cristo Land and Homes