Greetings from San Cristobal and beyond. We've had some violent thunder and lightning this last week. While we are grateful for the moisture here, there have been tremendous flash flooding and washouts. Particularly in the Mora Valley following the Calf Canyon/Hermits Peak fire this spring.
I could see this thunder and lightning event building from our house. I had to go for a closer look. Not far, just a few miles south, there are wide open vistas of the Taos Valley Picuris, and the Truchas Peaks and beyond. I got lucky with one shot out of the car window. I wasn't about to get out and set up a tripod. If you think about it, standing out in the rain, I'm the tallest feature in the landscape, hanging on to a metal tripod. Yes, I have a 40-year-old tripod, its metal. A man was struck by lightning during a previous storm this week in Taos. I wish him and his family well.
Here's what I captured from the car window.
Last week we visited my long-time friend and hiking partner I met when I moved to Taos in 1988. Harry and his wife Noreen invited us to their home for lunch. We hadn't seen them since Harry's art show in Taos. That was before covid. It was a delightful lunch and a great time visiting them at their home across the Rio Grande Gorge. Following lunch, we sat outside in the shade where the breezes came gently off the canyon rim. Harry sat next to one of his paintings, and we all noticed what a timely portrait it would make.
And the portrait. Harry is 92.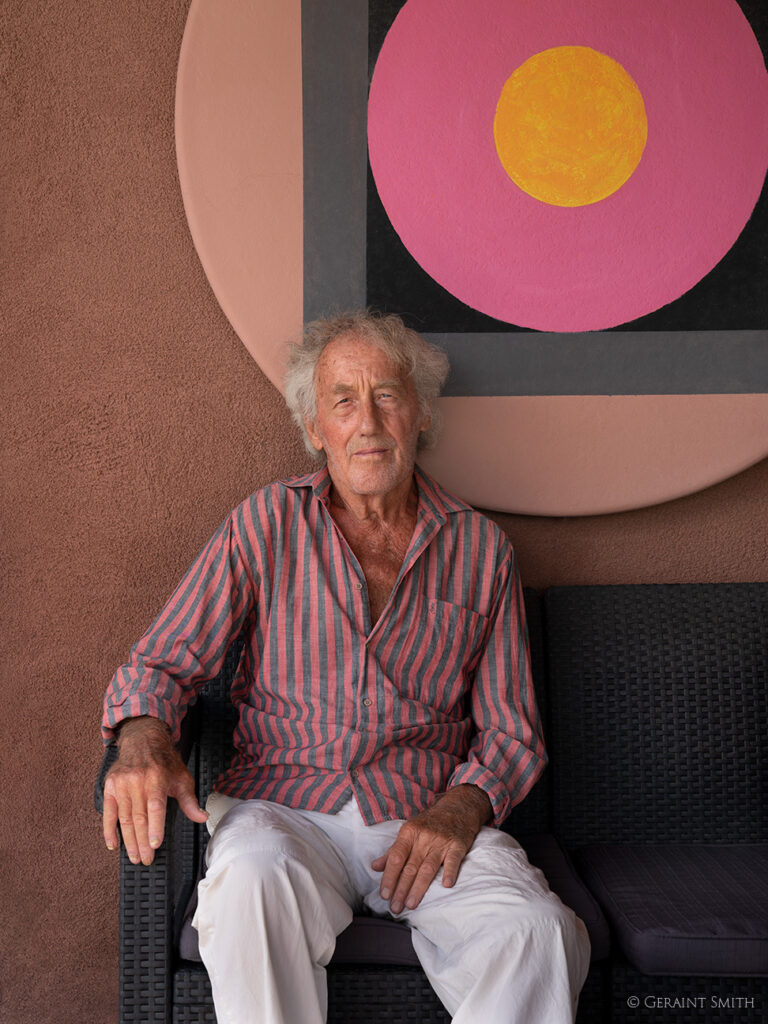 Coming up in September and October!
If you are fortunate to be in Taos on the weekend of September 23-25, 2022, please visit the stables gallery, where I'll be exhibiting my photography with a group of other artists. The show will consist primarily, of new black and white images, with some of my iconic images alongside.
The Stables Gallery is located at: 133 Paseo del Pueblo Norte Taos, NM 87571
On October 7-31, 2022, I will have a solo exhibition of my Sculpture and Photography, all new work, at the Bareiss Gallery here in Taos

Here's the advertisement for the exhibit and the details.
As always, thank you for your support, comments and compliments. Have a good week. G