RIP F. Ted Henry
F. Ted Henry, is a jeweler and craftsman who displays and sells his stunning work at the White House Ruin in Canyon de Chelly (Tséyi' in Navajo) , Arizona. 
On our annual photo trip this year to the four corners region of the southwest, we met Ted, in Canyon de Chelly. He greeted us warmly "Ya at eeh" and as we were already marveling at his jewelry, offered to show us something special. I feel sure he has shared his story with thousands of other visitors to his display stand at the White House Ruin. In my case, meeting Ted and hearing his story, had a profound effect and will leave a lasting impression. His smiling face and open, friendly nature was beguiling. He asked if I knew who Ansel Adams was? I answered, "I did". He proceeded to open a coffee table size book to a page of a Navajo woman holding an infant on a cradle board. I am very familiar with the image and recognized it immediately. It is a personal favorite and is synonymous with Canyon de Chelly. I started to get tummy flutters as I anticipated where he might be going with this story. The Navajo tradition of story telling is not wasted on Ted. He dove in to how he first saw the image later in life, when a friend showed him the book with a picture of his mother and infant brother. He didn't know for so many years that this image by Ansel Adams existed. His story continued until he laid a photo down of his mother made fifty years later, holding the Ansel Adams book open to the pages, in the exact location where he photographed her in 1942. Ted said we were welcome to make a portrait of himself holding the book and the companion photo. His smile and pride were palpable as the light in the canyon. I was quite overwhelmed by his gracious nature and the time in his presence. I made a few images of Ted under one of the cottonwood trees in the reflected light from the canyon walls, and beaming so bright I was glad to be wearing sunglasses. Thanks for looking. G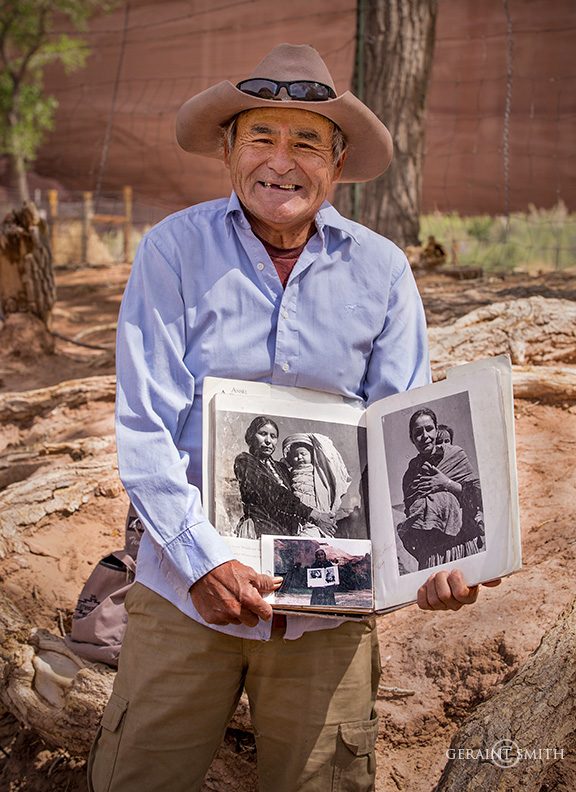 Ted's card shown below says… "Ya at eeh (greetings) – Welcome to the heart of the Navajo Nation, Canyon de Chelly, where Ansel Adams took a photo of my mother Rose Henry holding my brother Ben Henry in a cradle board in 1942 (top). The Bottom photo is 50 years later at the very same spot at the bottom of White House Trail"  And then "Hozhoodoo – In beauty and in harmony"  Teds, website.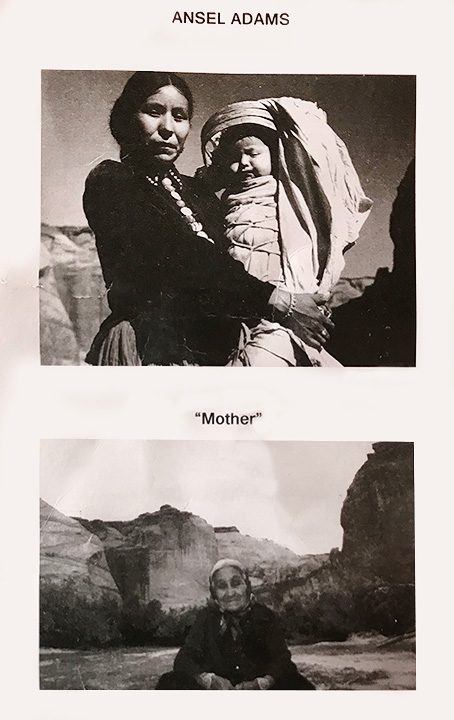 Here's the Ansel Adams image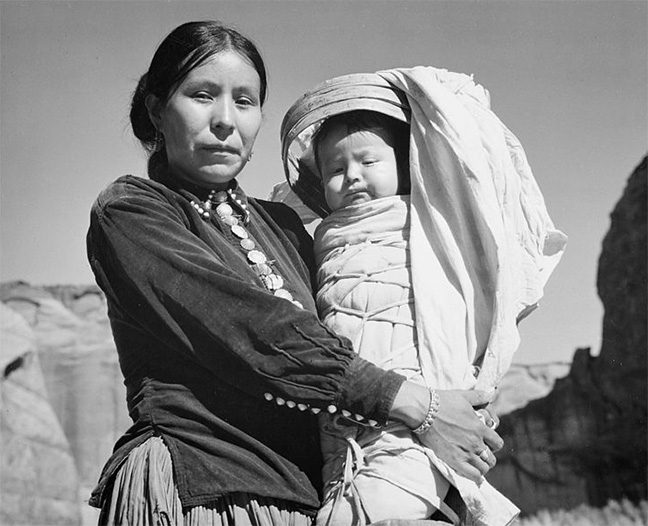 "Navajo Woman and Infant, Canyon de Chelle, Arizona."
[Canyon de Chelly National Monument], 1933 – 1942.